Macular Degeneration
Macular Degeneration
Macular degeneration is the deterioration of the macula, which is a small central portion of the retina. The retina is a light sensing nerve tissue; when damaged can cause central vision loss. There are two types of macular degeneration. The most common form of is the dry type. This disorder is characterized by the presence of yellow deposits in the macula, called drusen. Large amounts of drusen cause dimmed vision, frequently noticed when reading. With this atrophic form of dry macular degeneration, patients see blind spots in or near the central vision. The second form of macular degeneration is the wet type. This occurs when abnormal blood vessels develop in the retina. The vessels leak blood into the retina and cause scarring, distortion of vision and may lead to permanent loss of central vision. Although this disease is progressive and permanent, there are measures you can take to minimize its advancement. Such measures include diet and lifestyle, but one must first have a complete eye exam with Dr. Rowan. Please free to contact the Rowan Eye Center to schedule an appointment.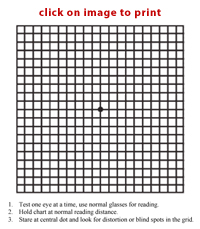 Risks of Macular Degeneration:
Family history
Smoking
Poor diet
Symptoms of macular degeneration
Straight lines look wavy
Change in color perception
Blurry or white out areas in the central vision
Treatment for macular degeneration Vitamins are the most effective form of treatment for the dry type of macular degeneration. Laser treatment is available for wet macular degeneration Anti-angiogenesis drugs are a very effective form of treatment for macular degeneration. This slows the growth of abnormal blood vessels in the eye. Anti-angiogenesis drugs are injected directly into the eye and can actually reverse the cause of the disease, but often require multiple office visits.