Retinopathy - Diabetic Eye Care
Retinopathy - Diabetic Eye Care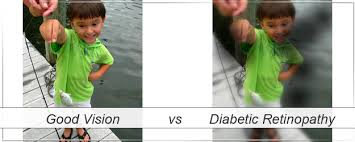 Diabetes can harm your eyes. It can damage the small blood vessels in your retina, which is the back part of your eye. This condition is called diabetic retinopathy. Diabetes also increases your risk of having glaucoma, cataracts, and other eye problems.
You may not know there is any damage to your eyes until the problem is very bad. Your doctor can catch problems early if you get regular eye exams.
If your doctor finds eye problems early, medicines and other treatments may help prevent them from getting worse.
You need regular eye exams
Every year, you should have an eye exam by an eye doctor (ophthalmologist). Choose an eye doctor who takes care of people with diabetes.
Your eye exam may include:
Dilating your eyes to allow a good view of the entire retina. Only an eye doctor can do this exam.
At times, special photographs of your retina may replace the dilated eye exam. This is called digital retinal photography.
Your eye doctor may ask you to come more or less often than once a year.
How to prevent eye problems
Control your blood sugar levels. High blood sugar increases your chance of having eye problems.
High blood sugar can also cause blurred vision that is not related to diabetic retinopathy. This kind of blurred vision is caused by having too much sugar and water in the lens of the eye, which is in front of the retina.
Control your blood pressure. Blood pressure less than 130/80 is a good goal for people with diabetes.
Have your blood pressure checked often and at least twice each year.
If you take medicines to control your blood pressure, take them as your doctor instructs.
Do not smoke. If you need help quitting, ask your doctor or nurse.
If you already have eye problems, ask your doctor if you should avoid exercises that can strain the blood vessels in your eyes.